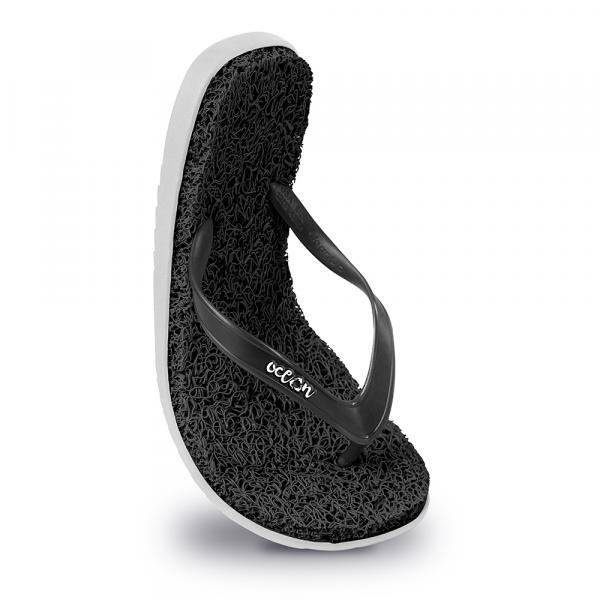 Soft, comfortable, light, non-slip, bacteria resistant flip-flops from Brasil that actively help with the devastating problem of plastics in our Oceans.
Developed with recycled plastics collected from the sea. SEAPLASTEC® is composed entirely of recycled plastics (PVC) with over 50% coming from the rubbish collected from the oceans.
Fresh, comfortable and ventilated feet. Its special nest pattern design permits superior breathability for the sole of the foot and the insulating properties of PVC make it especially comfortable on hot days, being the best option for those suffering from hyperhidrosis.
Lightweight and variety of natural colours. Its nest microstructure lightens the weight of each pair of sandals and offers a wide range of colours, all made with natural and sustainable pigments.
Shock and impact absorption. The unique structure of SEAPLASTEC® optimizes the absorption and elimination of impact, offering maximum cushioning.
Blood stimulation - massage effect. The special design of SEAPLASTEC® allows a massage effect on the sole of the foot, activating circulation, encouraging healthy feet and delaying the symptoms of fatigue.
Anti-slip – non marking – antiabrasion. The outsoles do not mark any type of surface, are non-slip and have a superb anti-abrasive capacity, for maximum safety and durability.
Anti-bacterial- anti-odor – anti-fungal. Its special treatment eliminates fungi, bacteria and odours, making it perfect for all uses.
Tüv rheinland certificate. The certificate guarantees that each pair complies with the strictest market regulations in regards to the absence of harmful chemical components.
Did you know?
The Oceans are the heart of our planet. They cover more than 75% of the earth's surface and produce 50% of the oxygen we breathe.
It is estimated that 80% of the rubbish found in the sea is plastic.
Every second, more than 200 kilos of plastic are thrown into seas and oceans, 12 tons per minute, more than 8 million tons per year.
More than 700 marine species are threatened by plastic
By 2025 it is expected that there will be a ton of plastic for every three tons of fish
By 2050 there will be more plastic in the ocean than fish.